In August 2021, the UK government published its Hydrogen Strategy and a number of consultations on policies to encourage the development of a UK low carbon hydrogen sector (see posts (1) to (4) in this series here). In a sector where countries are competing keenly to be among the first to capitalise significantly on the coming low carbon hydrogen revolution, momentum is crucial, and April 2022 saw the publication of a further batch of UK hydrogen policy documents, including the government's responses to the earlier consultations. This is the first in a series of posts on the April 2022 documents. We start with the Hydrogen Investor Roadmap, because it gives a convenient overview.
The roadmap summarises policies designed to attract investment into the UK low carbon hydrogen economy. It contains important information about the timings for the launch of public funding rounds and other steps the government is taking to boost the investment case for UK hydrogen projects.
UK investment case
The government makes the case to investors for being one of the world's most attractive business environments for hydrogen. They reference, amongst other things, the 130% capital allowances super-deduction on plant and machinery equipment, generous R&D and patent tax reliefs, lower labour costs and business-friendly employment laws.
Hydrogen investment case
The government also highlights the opportunities in an advanced and growing sector. These include:
revenue support: projects may apply for revenue support through the Hydrogen Business Model, which will focus initially on electrolytic and CCUS-enabled hydrogen production;
allocation rounds: there is a commitment to allocate support to projects in 2023 and 2024, with an annual allocation round;
regulatory environment: a UK Low Carbon Hydrogen Standard is being developed to provide a yardstick for public funding of projects and to help build market confidence;
existing assets: the UK has salt caverns and depleted oil and gas fields that are suitable for hydrogen storage as well as existing (and in some cases currently redundant) gas pipeline infrastructure that can be redeployed to transport hydrogen;
expertise: the UK's deep resources of both renewables and oil and gas sector expertise mean that there is no shortage of the skills or creative thinking needed to make projects happen – the UK is consistently in the top ten countries globally for hydrogen technology patent rates;
pipeline of projects: over a dozen large-scale low carbon hydrogen projects are ongoing or under development, as well as two or three times as many smaller-scale ones. As the illustration below makes clear, these cover a range of technologies and applications.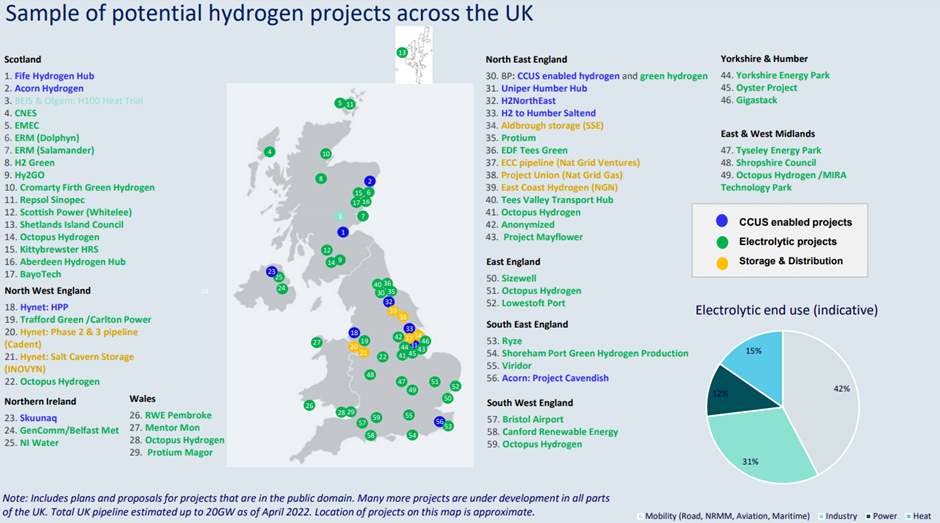 The government tells the market how they are providing certainty to the market through:
supporting a variety of production methods, as well as research and innovation in hydrogen infrastructure;
stimulating demand through grants to potential end users of hydrogen, delivering pilot trials and completing innovation work;
enabling infrastructure for the hydrogen value chain through hydrogen production projects supported by the Net Zero H2 Fund and the ongoing replacement of iron gas distribution networks with plastic;
stimulating investment by consulting on fund design, delivering CAPEX grant funding and targeted Development Expenditure (DEVEX) support to stimulate the project pipeline;
establishing a supportive regulatory framework through developing a greenhouse gas emissions threshold for "low carbon" hydrogen and working to implement changes to the existing non-economic regulatory framework to support hydrogen.
The paper also highlights the government's 2035 Delivery Plan for critical activities and milestones for developing the UK hydrogen economy, as summarised in the picture below: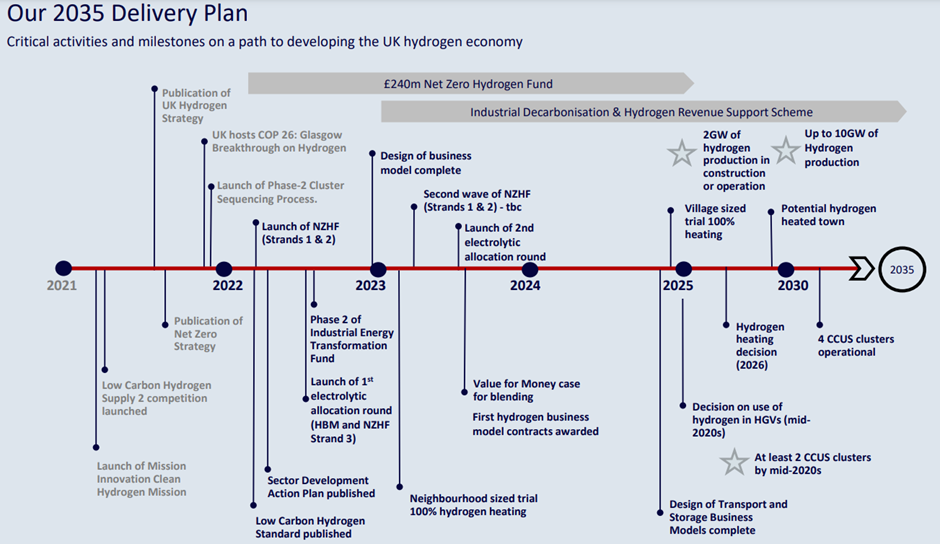 There is always more that can be done to support this new industry (as the recent report by RenewableUK, for example, points out). However, the UK is making a strong case to attract investors in a UK low carbon hydrogen economy, and this should provide a springboard for hydrogen projects in the UK. We have advised on low carbon hydrogen projects both in the UK and internationally and are ready to help you seize opportunities, assess risks and comply with the latest legal requirements in this exciting, but challenging, new sector.
Subscribe and stay updated
Receive our latest blog posts by email.