German energy assets continue to draw international investors' interest. However, in Germany as in other EU Member States, foreign investment in critical infrastructure, such as energy facilities, is a sensitive issue for the Government. New rules introduced in 2017 and 2018 come amid rising concerns that such assets are being systemically acquired by foreign investors, particularly from China. The intensity of foreign direct investment ("FDI") reviews by the German Federal Ministry for Economic Affairs and Energy (Bundesministerium für Wirtschaft und Energie – "BMWi" or "Ministry") has increased since 2016. The more restrictive approach in Germany has been backed by Regulation (EU) 2019/452 of 19 March 2019 establishing a framework for the screening of foreign direct investments into the Union ("EU framework"). Moreover, the next reform is well underway.
It is essential for foreign investors, sellers and targets' executives to consider the scope and implications of FDI review. In this article we review the significant regulatory changes to FDI screening and highlight the considerations for those involved in transactions in the energy sector.
I Review tools in Germany
Germany has had formal mechanisms in place to review FDI since 2004. The jurisdictional threshold at which the Ministry can intervene to protect security interests is linked to the shares / voting rights acquired in a German company. The general threshold lies at 25%. Most recently, the German government lowered the threshold to 10% in particularly sensitive areas.
A national security screening mechanism requires that any non-German investor notifies the Ministry of the acquisition of a target company with certain defense and IT security / cryptography products within its portfolio (so-called sector-specific investment review: Sec. 60 – 62 Foreign Trade and Payments Ordinance – Außenwirtschaftsverordnung "AWV"). However, the grounds for screening in Germany are not limited to the protection of essential interests of national security. Indeed, since 2009 BMWi may control and block acquisitions by investors established outside the territory of the EU and EFTA region in any sector, if the transaction would endanger public order or security (cross-sector review: Sec. 55 – 59 AWV). This procedure applies to the energy sector as well. EU Courts have acknowledged that public security may be affected by acquisitions related to issues such as security of supply in the event of a crisis, telecommunications and electricity, or the provision of services of strategic importance.[1] Even though this jurisprudence circumscribes Member States' discretion regarding the scope of public security reviews, without specific guidance, it is hard to predict which transactions trigger review by the Ministry and which do not.
II. AWV-reform of 2017 – tighter controls on critical infrastructure
Substantive amendments
In that regard, the AWV-reform of 2017 brought some clarification. The German government specified in which cases "an endangerment for the public order or security of Germany" likely exists. The amended Sec. 55 AWV requires BMWi to apply heightened scrutiny to certain types of investments, particularly those that could result in foreign control over German critical infrastructure. Federal Economic Minister Peter Altmaier recently stressed, "companies which supply us with electricity, gas and drinking water or which safeguard our telecommunications are of outstanding importance for our society."[2] This includes German companies, which develop and modify "sector-specific software", i.e. software that is used for operating and controlling critical infrastructure facilities (Art. 55 para. 1 sentence 2 no. 2 AWV). The concern is that the purchase of such highly significant IT application manufacturers by non‑EU investors could lead to the outflow of security-relevant information about the operation of critical infrastructures. Providers of critical infrastructure may have no or only less trustworthy alternatives available on the market.
In order to determine which companies can be regarded as operating critical infrastructure, reference is made to the German IT Security legal framework. According to the definition in Art. 2 para. 10 of the Act on the Federal Office for Information Security (Gesetz über das Bundesamt für Sicherheit in der Informationstechnik), critical infrastructures are facilities which belong to the energy, information technology, telecommunication, transport and transportation, health, water, nutrition as well as finance and insurance sectors and are of utmost importance for the functioning of the community.
In order to determine which energy facilities provide a significant level of supply for society, three steps should be considered.
First step (see first column of image below): Is the target company engaged in an energy service which is deemed critical (cf. Sec. 2 para. 1 Regulation for Determining Critical Infrastructures – "BSI-KritisV")?
Second step (see second column of image below): Are categories of facilities involved, which are necessary for providing these services?
Third step (see third column of image below): Finally, crucial for the identification of sensitive transactions in the energy sector is, whether the target company achieves the stipulated threshold values or, whether the relevant software provider has such facilities among its customers. In order to ascertain whether the threshold has been reached, it may be necessary to count several systems together. In general, the thresholds of the BSI-KritisV apply to each system. Several installations may, however, comprise a so-called joint installation, with the consequence that the individual values have to be added together for the threshold calculation. In the energy sector, according to Annex I to the BSI-KritisV, part 2, para. 7, several installations of the same type, which have a close spatial and operational relationship and meet the relevant threshold together, are as joint installation considered critical infrastructure. Common management of installations is a pre-requisite for a close spatial and operational context (cf. Annex I to the BSI-KritisV, part 2, para. 7 lit d).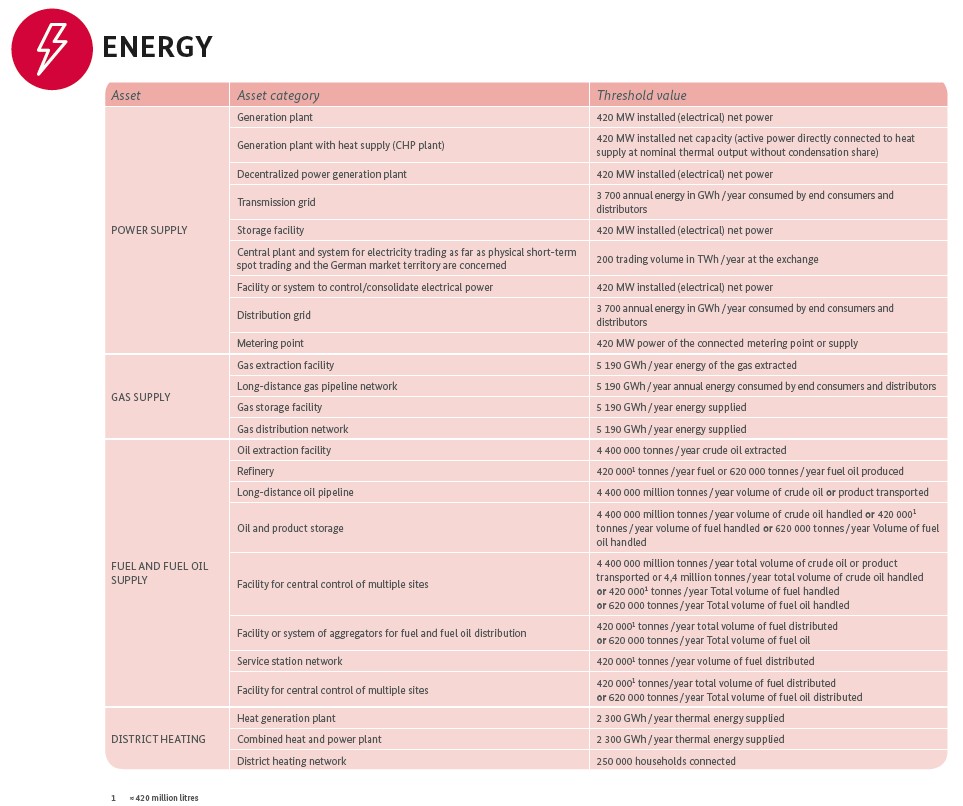 Source: Federal Ministry of the Interior
If according to the three-step test outlined above, energy assets are subject of the transaction, a filing of the foreign takeover with BMWi is mandatory. Please note, even if the energy facility is not deemed "critical", the transaction may still be subject to cross-sector review pursuant to the general clause in Art. 55 para. 1 sentence 1 AWV. Therefore, one should always analyze whether the contemplated cross-border transaction bears any (energy) security relevance. It is prudent to explore the reaction of BMWi to the takeover of the particular energy facility. Informal discussion can be carried out without triggering an obligation to file.
Procedural amendments
Prior to the AWV-reform of 2017, outside the defense and security sector, foreign investors were not required to notify any transaction. The Ministry was dependent upon information sharing by other public authorities; in particular, the Federal Cartel Office. Now, upon signing of the purchase agreement (schuldrechtlicher Vertrag), the direct acquirer of any German energy company covered by Art. 55 para. 1 sentence 2 AWV is obliged to notify the transaction. The notification sets in motion a time limit of three months for the BMWi to initiate the second phase of the cross-sectoral review procedure (cf. Art. 55 para. 3 AWV). If the investor does not either notify the transaction or apply for a clearance certificate (Unbedenklichkeitsbescheinigung), deal certainty can be obtained no earlier than five years after signing. Only then, is BMWi precluded from reviewing or blocking the transaction. Consequently, even if the transaction is exempted from notification, in cases of doubt, investors should apply for a clearance certificate. A clearance certificate is a formal confirmation of BMWi to the investor that the acquisition does not raise any concerns with respect to public order or security (cf. Sec. 58 AWV). The application shall cite the acquisition, the acquirer and the domestic company to be acquired and outline the fields of business in which the acquirer and the domestic company to be acquired are active. Under the old regime, a clearance certificate was deemed to have been granted if the Ministry did not open an examination procedure within one month after receipt of the application. The AWV-reform of 2017 has extended this period to two months. Additionally, the period for the review procedure itself (second stage) has been extended from two to four months. An issue to be considered is that the periods for any antitrust review of a transaction are very likely to differ from the periods for the review under the amended AWV. Still, the urgency to close a transaction must be balanced against the uncertainty created by not filing. In an era of risk abatement, the offer of safe harbor from post-transaction government action to alter or unwind the transaction is hard to resist.
The 2017 AWV-reform also clarified that EU acquisition vehicles cannot be used to circumvent the cross-sector investment review procedure, cf. Sec. 55 para. 2 AWV.
III. AWV-reform 2018 – German Government lowers review threshold
Shortly before Christmas 2018, the Federal Government adopted further amendments to the rules on FDI screening. Importantly, the Government lowered the review threshold from 25% to 10% in the particularly sensitive areas listed in Sec. 55 para. 1 sentence 2, i.e. critical infrastructure. Accordingly, an FDI review in the energy sector is now triggered if a non-EU investor acquires as little as 10%, rather than 25%, of a company that operates critical infrastructure facilities (cf. the three steps above). Thus, even more energy deals will be in the scope of the Ministry. With this move, the German Government plugs a gap in legislation. Last summer, State Grid Corporation of China ("SGCC") planned the acquisition of 20% of 50Hertz, one of Germany's power grid operators. Although 50Hertz qualified as critical infrastructure, BMWi had no authority to officially review or even block the transaction, as it was below the 25% threshold. Eventually, the Government intervened through the German state-owned development bank KfW (Kreditanstalt für Wiederaufbau) to preemptively acquire the 20% stake, and, effectively block SGCC's proposed investment.
IV. Trend towards greater scrutiny in Germany backed by developments at EU level
Although the German Government was keen to emphasize that the meaning of public security, which derives from EU law, was not changed or even expanded by the 2017 AWV-reform, it sought additional backing for its initiative at EU level. In November 2018, EU legislating bodies reached a political agreement on an EU framework for the screening of FDI. The EU framework officially entered into force on 10 April 2019. Member States' governments have 18 months to implement the new rules. The Commission, meanwhile, is taking the necessary steps to make the framework operational by October 2020. These steps concern, in particular, the setting up of the new EU-wide mechanism for cooperation, enabling Member States and the Commission to exchange information and raise concerns related to specific foreign investments. While the 2017 AWV-reform anticipated the substantive regulatory changes, procedural amendments to the German screening process will be necessary.
EU ramps up scrutiny of foreign investors
The envisaged EU framework employs the screening criterion of public order or security and explicitly describes factors to help Member States and the Commission determine whether an investment is likely to affect public security. The indicative list in Art 4 para. 1 of Regulation (EU) 2019/452 includes the effects of the investment on, inter alia,
critical infrastructure, whether physical or virtual, including energy, as well as land and real estate crucial for the use of such infrastructure;
critical technologies and dual use items, including energy storage and nuclear technologies; and
supply of critical energy inputs.
Accordingly, the AWV-reform of 2017 in Germany, which aims at protecting critical infrastructure and, hence, the energy sector, is backed by the EU framework. Moreover, the framework (cf. Art 4 para. 2 of Regulation (EU) 2019/452) condones the recent practice of BMWi, which gives consideration to additional aspects in the screening procedure, such as access to sensitive information and whether the foreign investor is state-controlled or state-funded. In other words, even if a standalone investment in the energy sector would not appear to have a significant national security impact per se, BMWi could still apply mitigation measures or ultimately block the transaction, where overall foreign ownership of the investor would present a security concern.
Procedural features of the EU framework
While the ultimate decision to allow, condition or block FDI remains with the Member State concerned, the Commission will have greater influence on future screenings of FDI. Furthermore, other Member States may exert political pressure. The Commission will obtain a new competence to screen FDI and issue a non-binding opinion in the event that the investment has the potential to affect the security of projects or programmes of EU interest (cf. Art. 8 of Regulation (EU) 2019/452), such as the "Trans-European Networks for Energy (TEN-E)" or the security of another / other Member State(s). The EU framework also creates a cooperation mechanism between Member States and the Commission. Currently 14 EU Member States[3] have FDI screening mechanisms in place. Differing approaches in terms of scope and design are followed in these countries. To date, no formal coordination among Member States and the Commission exists in this field. In future, Member States will need to inform each other and the Commission of any investment that is undergoing screening by their national authority (cf. Art. 6 of Regulation (EU) 2019/452). Even in cases where a foreign takeover is not undergoing screening but another Member State considers that this investment is likely to affect its security or the Commission considers that the investment is likely to affect the security in more than one Member State, the Commission is empowered to issue an opinion and other Member States may provide comments (cf. Art. 7 of Regulation (EU) 2019/452). In general, comments or opinions have to be addressed to the Member State where the foreign direct investment is planned or has been completed no later than 35 calendar days after receipt of certain relevant information.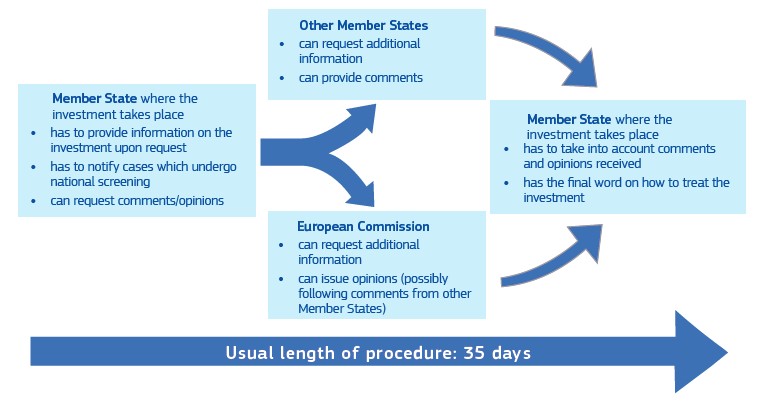 Source: European Commission
For the exchange of information and analysis, formal contacts in each Member State will be set up. The screening procedures at national level in Germany will likely be extended to allow for an exchange of opinions with the Commission and other Member States. Consequently, deal timing gets even more important.
V. Next reform is well underway
Most likely, this was not the last reform bill passed to protect domestic companies from foreign takeovers. As part of Germany's new National Industrial Strategy 2030,[4] Peter Altmaier has called for the creation of a state investment fund that would step in to pre-empt foreign takeovers of German companies.[5] Such a fund, once created, can be considered as a complementary tool to the authority of BMWi. A tangible discomfort around the issue of Chinese investment is even present among German business representatives. The influential German industry group Federation of German Industries (Bundesverband der Deutschen Industrie e.V. – "BDI") calls for tougher policies against China.[6] However, BDI criticizes the idea of a state investment fund. Instead, it supports a reform of competition law, including EU state aid rules.
VI. Key takeaways – Implications for deal planning
In particular for China, with its "Belt and Road Initiative" and industrial plan "Made in China 2025", investments in the EU's energy market remain highly attractive. However, as we experience in our daily practice, the trend of expanding review of FDI does not appear to be going away soon. Foreign investors, in general, have to expect a more rigid approach of authorities compared to the past. Risk and time management at an early stage of the cross-border transaction process are key to project success. There is no doubt, the new rules increase deal uncertainty. Those contemplating investments in German energy facilities should allocate more time, attention and resources to the screening process. Pre-deal considerations should include:
Timing: Foreign investors, sellers and target companies should be aware of the timing of an investment review. While BMWi is responsible for the implementation of the review procedure, it will involve other federal ministries as the case may be within the scope of their respective authority. Obviously, such consultation and deliberation add to the length of the procedure. The screening procedures at national level in Germany will likely be extended to allow for an exchange of opinions with the Commission and other Member States after the final implementation of the cooperation mechanisms based on the EU framework by October 2020. Therefore, effective management is key to expedite the procedure to meet the timeline needs.
Know your business (and the one you are investing in): Foreign investors, sellers and target companies must have a thorough understanding of whether the energy facility is to be considered as "critical infrastructure" or bears any other relevance for energy security. Take careful stock in case the target company designs or modifies software for energy facilities. It may be classified as "energy-sector-specific software", i.e. software that is used for operating and controlling critical energy infrastructure facilities or has access to a large amount of data. In cases of doubt, investors should apply for a clearance certificate (comfort letter). It provides legal certainty to the investor, the seller and the target.
State-driven takeovers: Consider whether the transaction involves a country of special concern that has demonstrated or declared a strategic goal of acquiring a type of critical technology or critical infrastructure that would affect issues related to national or public security.
It is not only about Control: Foreign investors, sellers and target companies must be aware of the types of transactions that, while not conferring the potential for control of the business on a foreign investor are now subject to review.
If you have questions about any of the issues raised in this post, our Competition, Antitrust and Regulatory practice group in Germany is happy to assist you – please contact Andreas Haak, Dr. Maria Brakalova or Dr. Barbara Thiemann, LLM.
[1] The European Court of Justice explicitly recognized in Case C-503/99 (Commission v. Belgium, judgement of 4 June 2002 at para. 46) that "the safeguarding of energy supplies in the event of a crisis, falls undeniably within the ambit of a legitimate public interest".
[2] BMWi, press release of 19/12/2018, "Strengthening our national security via improved investment screening".
[3] Austria, Denmark, Germany, Finland, France, Latvia, Lithuania, Hungary, Italy, the Netherlands, Poland, Portugal, UK and Spain.
[4] Peter Altmaier presented on the draft of a National Industry Strategy 2030 early February 2019.
[5] BMWi, 5 February 2019, "Nationale Industriestrategie 2030. Strategische Leitlinien für eine deutsche und europäische Industriepolitik".
[6] BDI, January 2019, "BDI-Grundsatzpapier China. Partner und systemischer Wettbewerber – Wie gehen wir mit Chinas staatlich gelenkter Volkswirtschaft um?"
Subscribe and stay updated
Receive our latest blog posts by email.