Green energy auction results (RESS 1)
4 August 2020 marked another significant step forward for the new Irish government in implementing policies designed to transform the national power system towards a greener and more sustainable future. On that day, EirGrid (the state-owned company that manages and operates Ireland's all-island transmission grid) published the eagerly awaited provisional results for the Renewable Electricity Support Scheme 1 (RESS 1) auction process, just two weeks after the scheme was approved by the European Commission under the EU state aid rules.
This government-backed, green power auction is the first of a number that are due to be held over the coming years and forms a central part in achieving Ireland's national goal of moving away from fossil fuels and reaching a 70% share of renewables in its electricity mix by 2030, as well as its longer-term objective of carbon neutrality by 2050. The background to these targets, and the RESS auctions, can be found in key policy documents such as the Government's Climate Action Plan (2019) and the recently published Programme for Government (2020).
Wind farms (x19) and solar power projects (x63)
Results for RESS 1 show that solar and onshore wind projects with a combined capacity of 1,275.5 MW were declared provisionally successful in Ireland's first tender for renewable energy capacity. The projects to be awarded contracts include 19 new wind farms and 63 new solar power projects. RESS takes the form of a two-way contract for difference. Average strike prices set by the auction were €74.08/MWh for all projects, €72.92/MWh for solar projects and €104.15/MWh for community projects. As the auction was run on a pay-as-bid basis, there could be a wide range of prices for successful projects.
Approved schemes range in capacity from more than 100 MW to less than 1 MW, and size from 20 acres up to nearly 400 acres. They are located predominantly in the south and east of the country. For projects awarded contracts in the RESS 1 auction, the support typically applies for approximately 15 years. At present, these RESS auctions have an estimated total budget of up to €12.5 billion through until 2025.
Uptake in solar
Interestingly, as can be seen in the map below, solar projects accounted for the largest number of applications and awards at RESS 1. Of the 75% of applicants who succeeded in gaining provisional approval at the auction process, 77% of these were solar projects. This is a significant but not surprising development as the previous decade was dominated by development of onshore wind projects in Ireland with little to no investment in solar or any other form of renewables. While there is still room for additional investment in the market for onshore wind in Ireland, we expect applications for solar projects to be a more common feature of RESS auctions going forward.
What next?
The provisional auction results are pending government approval in accordance with the reserved rights of the Minister for Communication, Climate Action and Environment as set out in Section 10 of the RESS 1 Terms and Conditions. Participants had the opportunity to file a Notice of Dissatisfaction by 6 August 2020 and the final results will be announced on 10 September 2020, with the awards to be made on 25 September 2020. All in all, the success of this inaugural green energy auction is a positive sign of what is yet to come for the renewable energy sector in Ireland.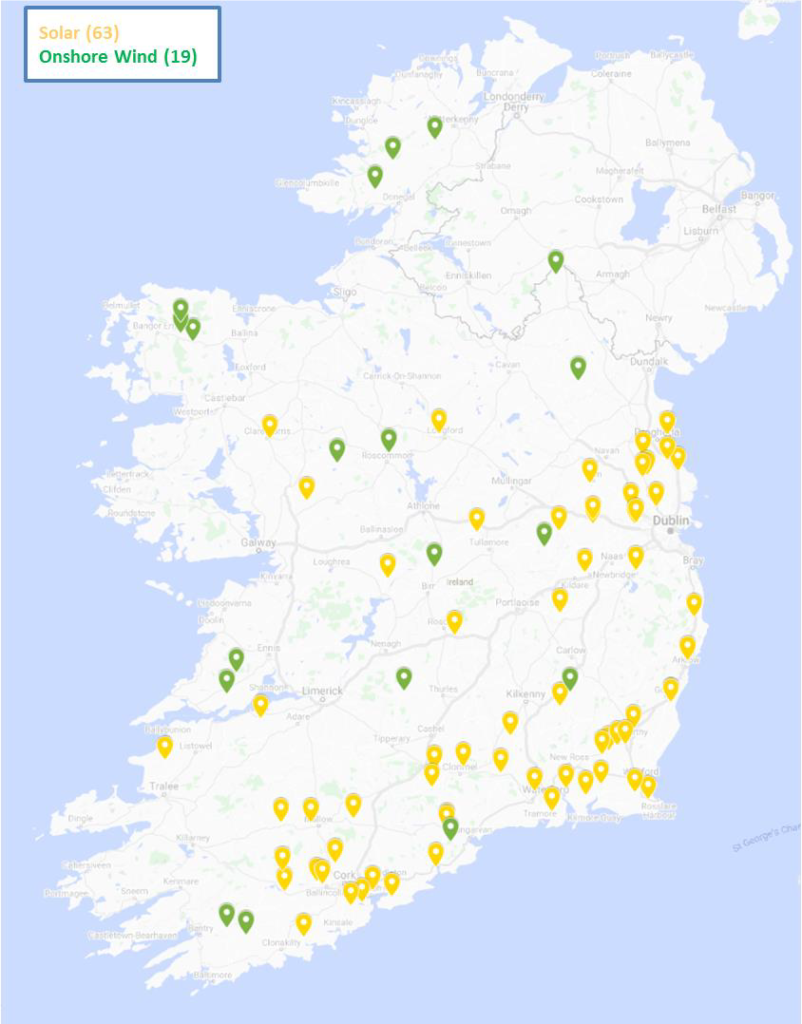 Subscribe and stay updated
Receive our latest blog posts by email.