Are the current regulations fit for purpose?
Looking at the current regulatory regime, whilst a UK battery recycling regime exists, it focuses more on waste management, it is thin on detail and does not adequately address considerations of a circular economy and the exponential growth in industrial battery use. In particular, there is no distinction made between recycling and repurposing, nor an accompanying framework for repurposing.
Future policy developments
Industrial batteries do not just die once, but twice. Once, when they can no longer power a BESS project, and again when they can no longer power anything else. The definition of "waste" battery as mentioned in my last blog post has a high threshold and is unlikely to apply in the context of the end of its usable life in a BESS project. There is of course a possible second life for these batteries, depending on how their use case develops.
There will be residual value in these batteries on a secondary market, whether that is for use in respect of street lighting, home energy storage, back-up storage for co-location, or use in EV charging infrastructure.
Future policy developments – EU
Here is a snapshot of the newly adopted EU regulations.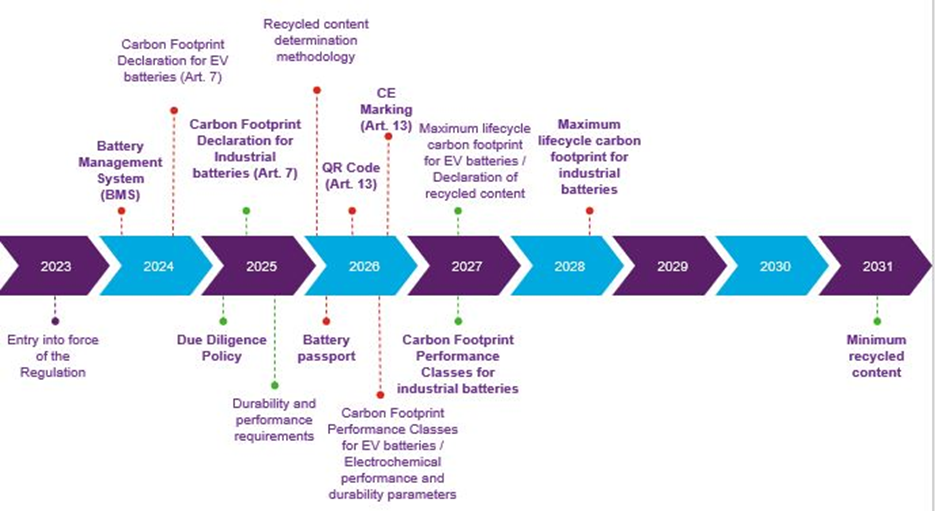 Looking at our neighbours who are much more advanced in their thinking, there are some interesting elements to the regulations like a battery "passport" for each battery with a capacity above 2kWh.
The operator who places the battery on the EU market is responsible for updating the battery passport, which is designed to help to trace batteries and their management throughout their lifecycle.
The battery passport should help second-life stakeholders to make more informed decisions and allow recyclers to better plan their operations and increase recycling efficiency, whilst making used batteries more marketable.
The EU Regulation also proposes that second-life batteries must fulfil specific end-of-life criteria, including passing a "health check" before being sent for repurposing.
You can find more detail on the EU regulations here.
Future policy developments – UK
In 2018, the UK government published "Our Waste, Our Resources, A Strategy for England (Resources and Waste Strategy)". This report indicated that the government will consult on reviewing the end-of-life battery regime in England as part of its extended producer responsibility framework. This is currently scheduled for later in 2023.
More recently, the UK government this year published "A Study on the Safety of Second-life Batteries" – where two very conflicting views formed with stakeholders. One was that a safety framework can be put in place to allow the use of second-life batteries, so long as the full history of the batteries in their first life applications is known. A second, more radical view shared by some respondents is simply that the safety of such cells can never be guaranteed, and hence that second-life batteries should not be employed under any circumstances.
The question is whether we think the UK will take a similar approach to the EU.
We think that this is likely to be the case. The UK government may be conscious that the framework established by the EU Regulation could provide regulatory clarity that attracts investment in battery development within the EU in preference to the UK.
Regulation of second-life batteries and the market for it will develop rapidly over the coming years and, if you are a project developer, you should put yourself in the best position to capitalise on this residual value.
Based on where we see the direction of travel going, keeping contemporaneous records of the operations and maintenance of your batteries will be paramount – noting how and when the batteries were cycled, whether they have been overcycled at any point and how have they been maintained. It will also be important to ensure that they are regularly tested and that the best safety practices are adhered to during their first life.
We have already seen companies preparing for this market in transactions on which we have worked. If you would like to hear more, please get in touch.
Subscribe and stay updated
Receive our latest blog posts by email.